Home > Car Links > Car Links - Pontiac
Fiero
Fiero T-top registry
Kais Fiero Page German
Paul's
Fiero - Pontiac's Mid-Engine Sportscar
V-8 Archie -- Pontiac Fiero V-8 Kits and Kit Cars
Fiero 1984-1988 Fiero
Firebird/Firehawk/Formula/Trans Am/Esprit
2000 Pontiac Firebird Trans Am Ram Air WS6 #81 in 2000 model year, site features hood and spoiler stripe packages, graphics and other modifications; pictures; rare Firebird TV commercials, car forum reviews, gm news, PDF manuals..
Classic Firebird Page
F-body site
Firebird WS6 Page
Firebirds Pure Pontiac Power
Restoring 1969 Firebirds
ThirdGen Tech Central
Trans Am
95 Firehawk
'78 Firebirds Lot#2

---
Books and Manuals
Manuals
Chevrolet Camaro & Pontiac Firebird Automotive Repair Manual USA Haynes 2005 (*Ad)
GM Buick Regal Chevrolet Lumina 1990-1994 Olds Cutlass Supreme & Pontiac Grand Prix 1988 -2002 USA 2003 (*Ad)
Haynes General Motors Chevrolet Cavalier & Pontiac Sunfire 1995-2001 (Hayne's Automotive Repair Manual) USA 2003 (*Ad)
Chilton's GM Firebird 1967-81 Repair Manual UK | USA (*Ad)
Chilton's Repair and Tune-Up Guide Buick/Oldsmobile/Pontiac 1975-90 UK | USA (*Ad)
Chilton's General Motors Cavalier/Sunbird/Skyhawk/Firenza : 1982-94 Repair Manual UK | USA (*Ad)
Chilton's General Motors Celebrity/Century/Cutlass Ciera/6000 1982-92 repair manual UK | USA (*Ad)
Chilton's GM Fiero 1984-88 Repair Manual UK | USA (*Ad)
Chilton's GM : Grand Am/Achieva/Calais/Skylark/Somerset 1985-95 Repair Manual UK | USA (*Ad)
Chilton's Repair Manual Lumina/Grand Prix Cutlass Supreme Regal 1988-92 UK | USA (*Ad)
Chilton's Repair Manual Lumina/Grand Prix Cutlass Supreme Regal 1988-92 UK | USA (*Ad)
Chilton's General Motors Bonneville/Lesabre Eighty-Eight 1988-93 Repair Manual UK | USA (*Ad)
General Motors-Lumina/Silhouette/Transport/Venture 1990-99 Repair Manual UK | USA (*Ad)
General Motors : Buick Skylark 1986 Thru 1995, Buick Somerset 1985 Thru 1987, Oldsmobile Achieva 1992 Thru 1995, Oldsmobile Calais 1985 Thru 1991 (Haynes) UK | USA (*Ad)
General Motors A-Cars Owners Workshop Manual (Haynes) USA (*Ad)
General Motors Automotive Repair Manual : Cadillac Eldorado 1971-85 and Seville 1980-85, Oldsmobile Toronado 1971-85, Buick Riviera 1979-85 (Haynes) UK | USA (*Ad)
General Motors Buick Regal, Chevrolet Lumina, Pontiac Grand Prix, Olds Cutlass Supreme : Automotive Repair Manual, 1988 Through 1990 (Haynes) UK | USA (*Ad)
General Motors Chevrolet Lumina Apv, Oldmobile Silhouette and Pontiac Trans Sport : Automotive Repair Manual (Haynes) UK | USA (*Ad)
Pontiac Firebird 1970 Thru 1981 All V8 Models (Haynes #555) UK | USA (*Ad)
Pontiac Firebird 1982 Thru 1992 : All Models Automotive Repair Manual (Haynes) UK | USA (*Ad)
Chevrolet Cavalier & Pontiac Sunfire 1995 thru 1999 (Haynes) UK | USA (*Ad)
Pontiac Mid-Size Models Automotive Repair Manual (Haynes) UK | USA (*Ad)
Chevrolet Malibu/Oldsmobile Alero and Cutlass/Pontiac Grand Am Automotive Repair Manual (Haynes) UK | USA (*Ad)
Buick Oldsmobile Pontiac Full-Size Models 1985 Thru 1993 Front Wheel Drive : Automotive Repair Manual (Haynes) UK | USA (*Ad)
Buick, Olds & Pontiac Full-Size FWD Models Automotive Repair Manual : 1985-1998 (Haynes #1627) UK | USA (*Ad)
Buick, Oldsmobile, Pontiac Full-Size Models Owners Workshop Manual, 1970-1990 (Haynes) UK | USA (*Ad)
General Motors : Buick Skylark 1986 Thru 1995, Buick Somerset 1985 Thru 1987, Oldsmobile Achieva 1992 Thru 1995, Oldsmobile Calais 1985 Thru 1991 (Haynes) UK | USA (*Ad)
General Motors Automotive Repair Manual : Cadillac Eldorado 1971-85 and Seville 1980-85, Oldsmobile Toronado 1971-85, Buick Riviera 1979-85 (Haynes) UK | USA (*Ad)
General Motors Buick Regal, Chevrolet Lumina, Pontiac Grand Prix, Olds Cutlass Supreme : Automotive Repair Manual, 1988 Through 1990 (Haynes) UK | USA (*Ad)
General Motors Cadillac Eldorado, Seville, Deville and Fleetwood (Fwd) Oldsmobile Toronado Buick Rivera Automotive Repair Manual : Cadillac Eldorado(Haynes) UK | USA (*Ad)
General Motors Chevrolet Lumina Apv, Oldmobile Silhouette and Pontiac Trans Sport : Automotive Repair Manual (Haynes) UK | USA (*Ad)
Books
Standard Catalog of Pontiac 1926-2002 USA Gunnell J 2002 (*Ad)
75 Years Of Pontiac: The Official History UK | USA Gunnell J (*Ad)
High Performance Pontiacs: 1955-1974 (S-a Design Performance History) USA Smith J 2005 (*Ad)
How To Build Max Performance Pontiac V8s USA Hand J 2004 (*Ad)
Pontiac Firebird: The Auto-Biography USA Cranswick M 2003 (*Ad)
Pontiac GTO USA Statham S 2003
Car & Driver On Pontiac 1961-1975 UK | USA Clarke R M (*Ad)
Pontiac Firebird 1967-2000 Photo History UK | USAScala G (*Ad)
Pontiac Firebird Trans-Am 1969-1999 UK | USA Scala/Wyss (*Ad)
Pontiac Fiero 1984-1988 Performance UK | USA Clarke R M (*Ad)
Hemmings Motor News Book Of Pontiacs UK | USAHemmings (*Ad)
Pontiac Firebird, Trans-Am And GTO UK | USA Hot Rod Magazine (*Ad)
Pontiac Dream & Show Cars & Prototypes 1928-1998 Photo Album UK | USA Thomas J (*Ad)
Pontiac Experimental Cars Vol 3 USA Schorr M L (*Ad)
Pontiac's Third-Generation Firebird & Trans Am UK | USA Schorr M L (*Ad)
Performance Tuning Pontiacs Of The 60s UK | USA Various (*Ad)
Pontiac GTO The Great One UK | USA Statham S (*Ad)
Pontiac GTO Restoration Guide 1964-1970 USA Zazarine P (*Ad)
Pontiac GTO Restoration Guide 1964-1972 UK | USA Zazarine P (*Ad)
Pontiac Illustrated Buyer's Guide UK | USA Cunnell (*Ad)
Pontiac Muscle Cars 1966-1972 UK | USA Clarke R M (*Ad)
Pontiac Muscle Cars (Color) UK | USA Mueller (*Ad)
Pontiac Tempest & GTO UK | USA Clarke R M (*Ad)
Pontiac GTO ID Numbers 1964-1974 UK | USA Cars & Parts (*Ad)
Firebird Red Book (2nd Ed.) Pontiac Firebird UK | USA Sessler P (*Ad)
Pontiac 1949-1960 'Road Test' Ltd. Edition UK | USA Clarke R M (*Ad)
Videos
The Visual History of Cars, Vol. 1 (Jeep, Volkswagen, Firebird, Thunderbird) USA (*Ad)
The Visual History of Cars - Firebird USA (*Ad)
Clubs
Camaro-Firebird Owners Club of Australia, Inc
Pontiac Car Club Queensland
Pontiac Car Club Victoria
Pontiac Car Club South Australia
Pontiac Car Club New South Wales
Pontiac Car Club Western Australia
Pontiac Car Club of Australia Victoria Chapter
Pontiac Car Club of Australia Queensland Chapter
Pontiac Car Club of Queendsland
Pontiac Drivers Club
Classic Fiero Owners Group International, is a non-profit organization for Fiero owners and enthusiasts everywhere. P.O. Box 175952, Covington, KY, USA, 41017-5952. mailto:info@cfog-i.org. Fiero Owners Club of America
GTO Association of America, 1634 Briarson Drive, Saginaw, Michigan, MI 48603, USA
Original GTO Club, Neil Moderson, P.O. Box 18438, Milwaukee, Wisconsin, WI 53218, USA, Tel: + 1 (414) 691-2627
The Judge GTO International, Robert J. McKenzie, 114 Prince George Drive, Hampton, Virgina, VA 23669, USA, Tel: + 1 (804) 838-2059
Bandit Trans Am Club, P.O. Box 322, Cleveland, Wisconsin, WI 53014, USA, Tel: + 1 (414) 693-8355
Dakota B.O.P Chapter, 408 North Main, Hartford, South Dakota, SD 57033, USA, Tel: + 1 (605) 528 3764
National Firebird Club
P.O. Box 11238, Chicago, Illinois, IL 60611, USA, Tel: + 1 (773) 769-6262, Fax: + 1 (773) 769-3240
Northern Illinois Fiero Enthusiasts
Oakland/Pontiac Enthusiast Organization, Inc., P.O. Box 0371, Drayton Plains, Michigan, MI 48330, USA, Tel: + 1 (313) 623-7573
Original GTO Club, Neil Moderson
P.O. Box 18438, Milwaukee, Wisconsin, WI 53218, USA, Tel: + 1 (414) 691-2627
Pontiac Car Club of Australia, New South Wales, Australia, Tel: + 61 (0) 47 826818
Pontiac Club Bern, Boesingenfeldstr. 18, Boesingen, CH-3178, Switzerland, Tel: + 41 31 747 0123, Fax: + 41 31 747 0123
Pontiac-Oakland Club Int., Florida, USA, Tel: + 1 (941) 750-9234, Fax: + 1 (941) 747-1341, mailto:smokecen@gte.net
Schweizerischer Pontiac Firebird Club, Jurastr.143, Grenchen, CH-2540, Switzerland, Tel: + 41 65-551331
Trans Am Tribe, 22208 Moselle Ct., Hayward, California, CA 94541-3331, USA
Western Washington Firebirds, Washington, USA, Tel: + 1 (425) 775 8380, mailto:pscoop@gte.com
Magazines
Magazines - US Shipping Only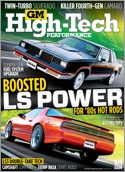 GM High Tech Performance
GM High Tech Performance Magazine is a bi-monthly publication that is edited for the domestic late model, EFI enthusiast. Editorial features include technical articles exploring engine, suspension and body modifications and features on exciting late model EFI vehicles. Each issue of GM High Tech Performance also includes late model EFI events coverage, new product reviews, and personality features to round out the mix.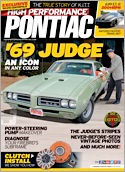 High Performance Pontiac
High Performance Pontiac Magazine is edited for enthusiast who love Pontiacs, old and new. The magazine covers the world of Pontiacs- collecting, restoring, modifying for more performance and customizing for show. Each issue of High Performance Pontiac features Pontiacs from the early 50's fuel injected cars, through the muscle cars of the 60's and 70's, and right through to today's Trans-Am.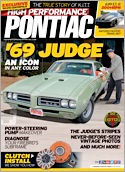 Pontiac Enthusiast
Pontiac Enthusiast Magazine is the source for all things Pontiac. It brings readers features and columns that will enhance their enjoyment of GM's "Excitement Division".

Parts

Automobile Archives NOS GM Parts - $1 for a computerised list, give year and model.
Ames Performance Engineering Catalogs for 1967-92 Firebird, 1964-77 GTO, 1955-77 Gran Prix & Full Size. California Pontiac Restoration 40,000 Pontiac Parts in Stock
Classic Motor World Quality Pontiac Parts
Frank's Pontiac Parts specializes in quality used parts for LeMans/Tempest/GTO and 1967-73 Firebirds
Jim Pace GM Parts Warehouse
Original Parts Group Incorporated Restoration parts and accessories for 1963-73 GTO, Tempest, LeMans 1964-1972
The Paddock Muscle Car Parts inc GTO and Firebird

Automobile Archives NOS GM Parts - $1 for a computerised list, give year and model.
Ames Performance Engineering Catalogs for 1967-92 Firebird, 1964-77 GTO, 1955-77 Gran Prix & Full Size. California Pontiac Restoration 40,000 Pontiac Parts in Stock
Classic Motor World Quality Pontiac Parts
Frank's Pontiac Parts specializes in quality used parts for LeMans/Tempest/GTO and 1967-73 Firebirds
Jim Pace GM Parts Warehouse
Original Parts Group Incorporated Restoration parts and accessories for 1963-73 GTO, Tempest, LeMans 1964-1972
The Paddock Muscle Car Parts inc GTO and Firebird